Multiple Times Growth and Discovery Potential
Solaris is responsibly and sustainably advancing a portfolio of copper and gold projects in the Americas:
Focused on Flagship Warintza, Ecuador -
High grade open pit resource within 5km trend of outcropping copper porphyry; untested gold potential
Discovery Potential -
Drilling for discoveries at Tamarugo and Ricardo in Chile and Capricho and Paco Orco in Peru
Exploration Programs Designed by David Lowell, World's Greatest Explorer -
Assembled our portfolio of assets and designed programs led by his protégé, Jorge Fierro, the Company's VP, Exploration.
Managed by the Augusta Group -
Highly-specialized in exploration and development, unrivaled track record of over C$4.5B exits / 10 yrs
Backed by a management team and strategic partners with an unparalleled track-record of creating value, Solaris is poised for rapid growth through multiple times expansion. and discovery potential.
Augusta Group Track Record
Solaris is managed by the Augusta Group, which boasts an unrivaled track record of value creation totaling over C$4.5B in exit transactions over the last decade, and has strategic partnerships with the leading entrepreneurs in the mining sector.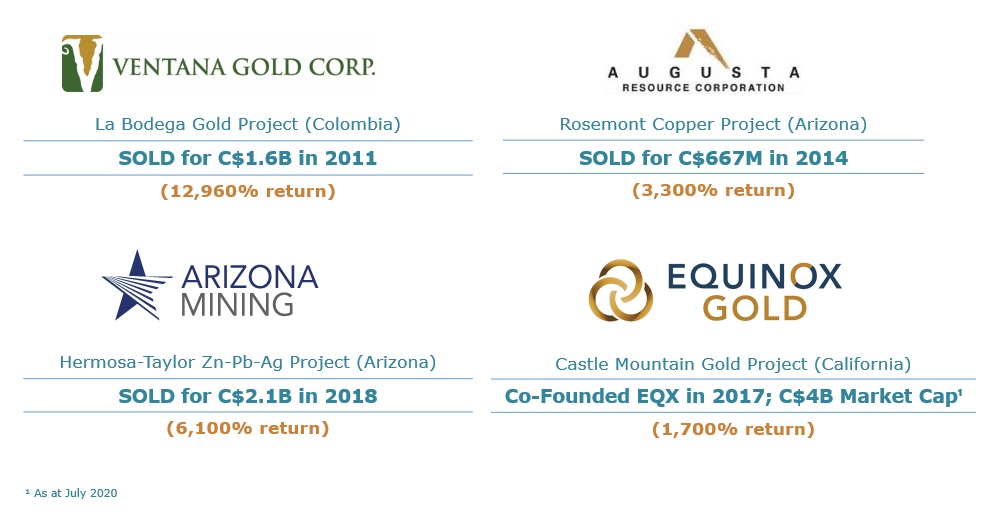 Upcoming News Flow in 2020
Drilling results from Warintza Central for rapid resource growth; discovery potential along 5 km outcropping porphyry trend
Discovery potential at Warintza gold targets
Advancing Tamarugo in Chile toward drilling; Capricho and Paco Orco in Peru drill-ready next year
Discovery potential from drilling at Ricardo in Chile via JV Partner, Freeport-McMoRan