Primary Infrastructure: Natural Cost Advantage
268km² property, 100%-owned; 40km north of Mirador mine (US$1.4B / 20 Mtpa, Phase 2: US$0.8B / 40 Mtpa)
Access road to nearby highway connecting Pacific ports, transmission lines, airport, skilled labour, fresh water
Access to grid power (hydroelectric), adjacent Santiago development (US$3B / 2,400MW)
MOU signed for 100% supply of hydroelectric power (see press release Mar 21, 2022); Ecuador 7c/kWh vs DRC 30c, Chile 15c, Peru 14c, Brazil, Mexico 12c
Multiple Times Growth Potential
Warintza Central Mineral Resource above 0.3% CuEq cut-off:
579 Mt at 0.59% CuEq¹ (Indicated)
887 Mt at 0.47% CuEq¹ (Inferred)
'Indicative Starter Pit' above 0.6% CuEq cut-off:
180 Mt at 0.82% CuEq² (Indicated)
107 Mt at 0.73% CuEq² (Inferred)
Resource drilling cut-off Nov 2021, growth drilling ongoing
Targeting Starter Pit growth at Warintza Central, Major resource growth at Warintza East
Multiple-times growth over long term within Warintza Cluster
Warintza Drilling
Summarized drilling for Warintza can be found here.
Extensive System of Outcropping Porphyries
Plan View of Warintza Porphyry Cluster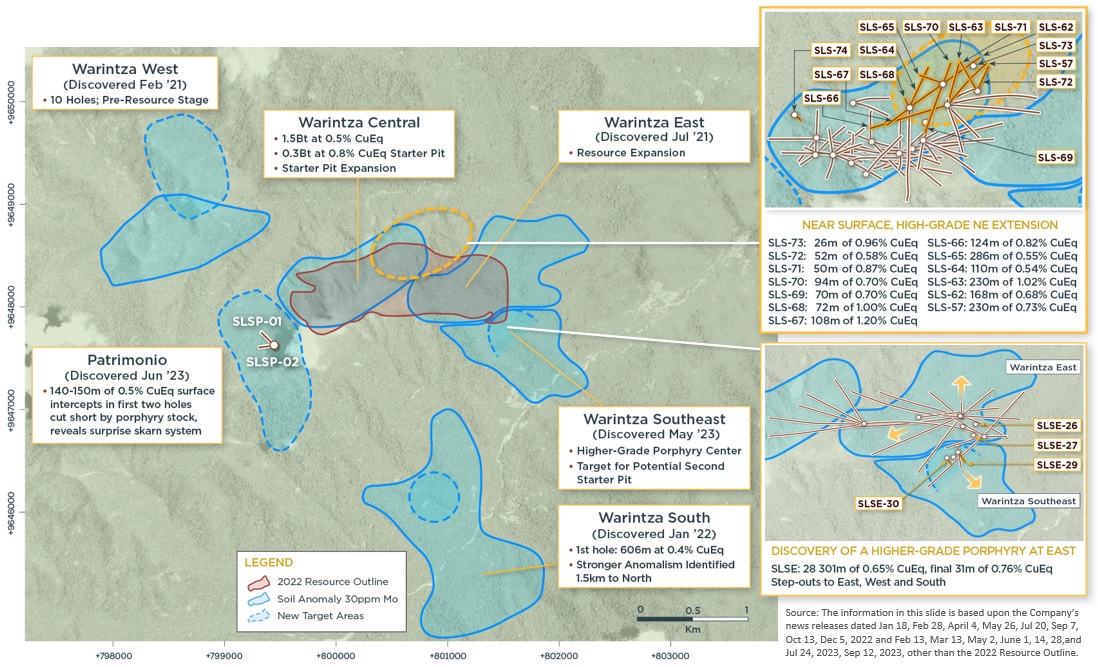 Warintza Mineral Resource Plan View (1,400m Elevation)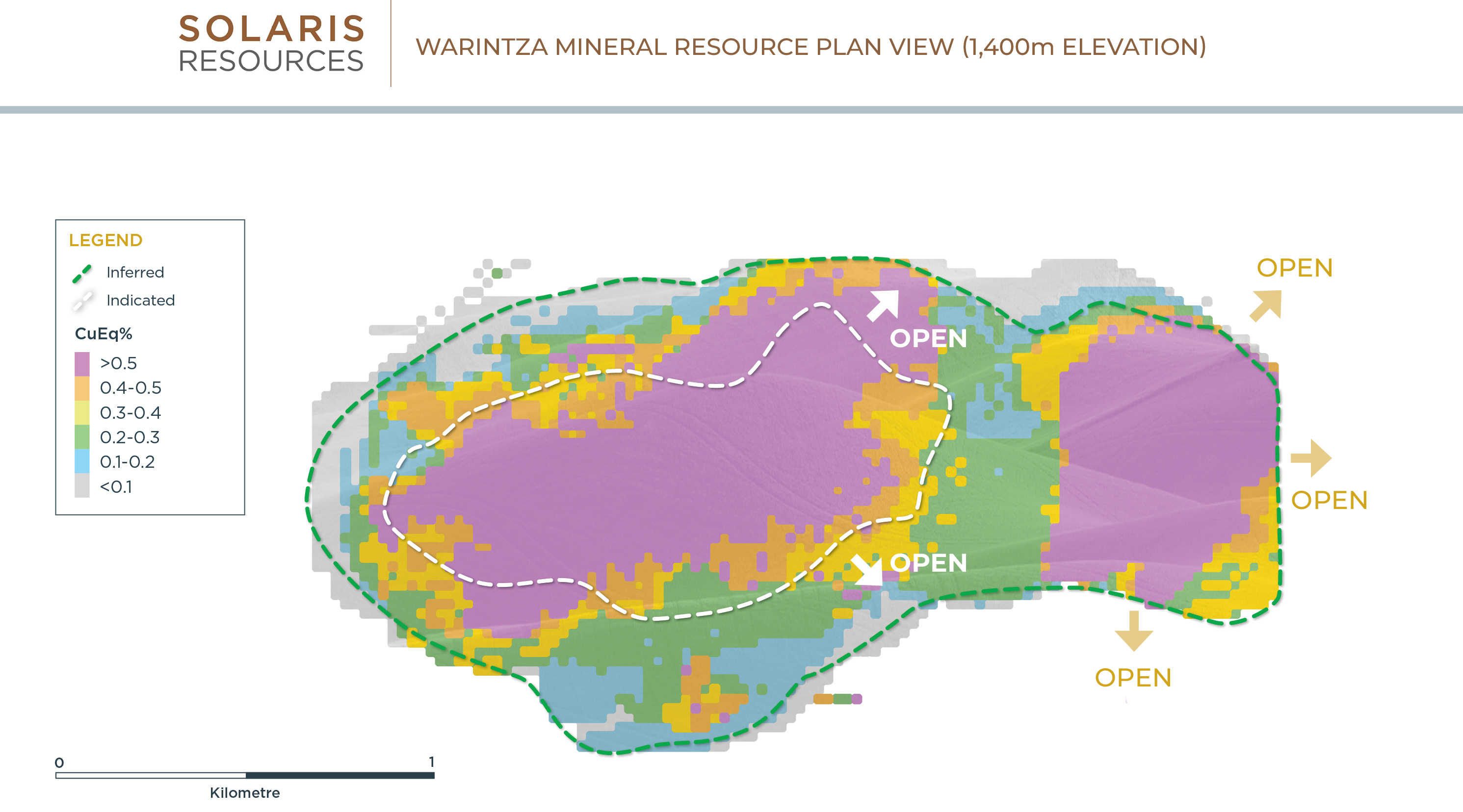 Warintza Mineral Resource Long Section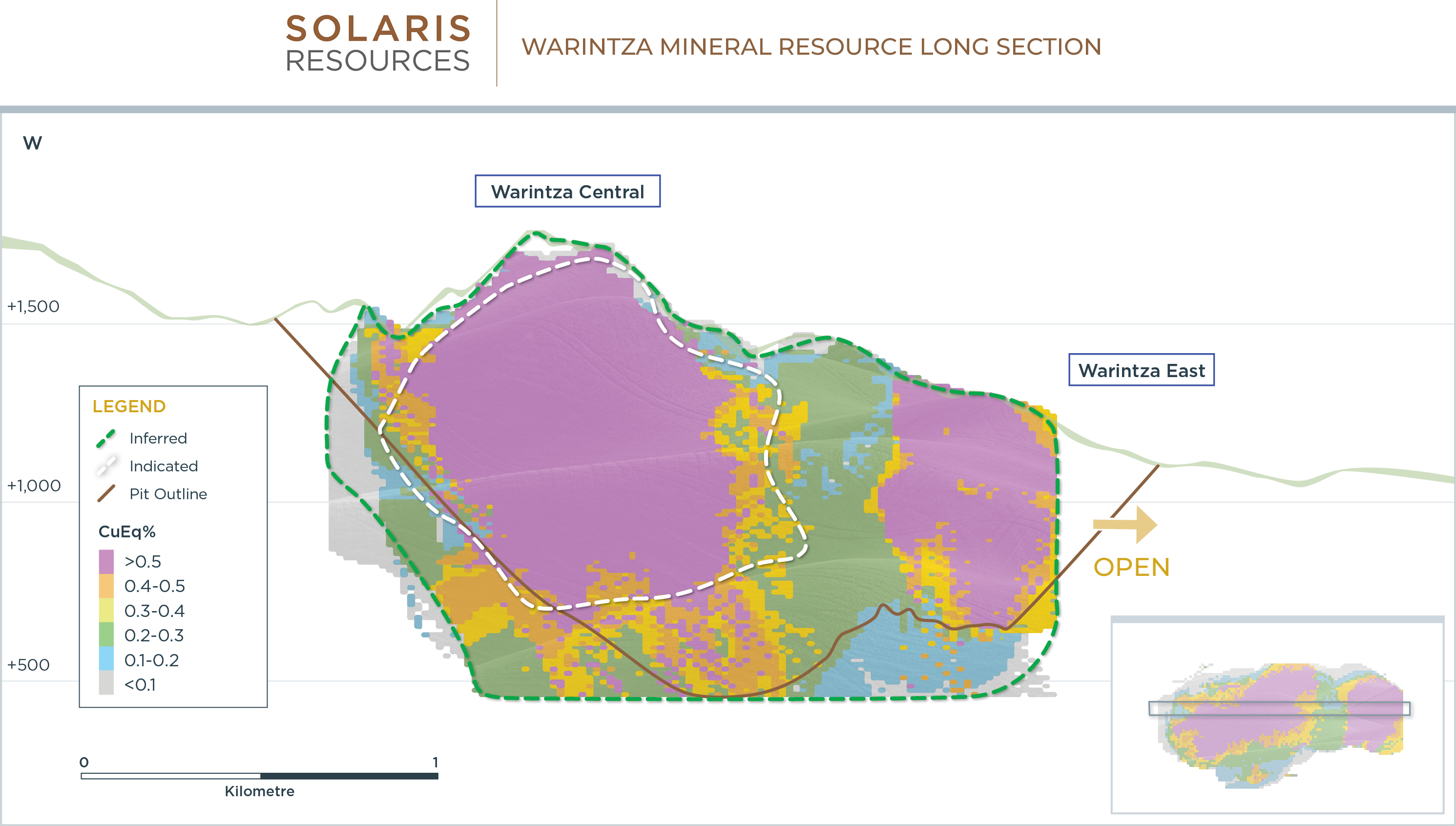 Warintza Mineral Resource Cross Section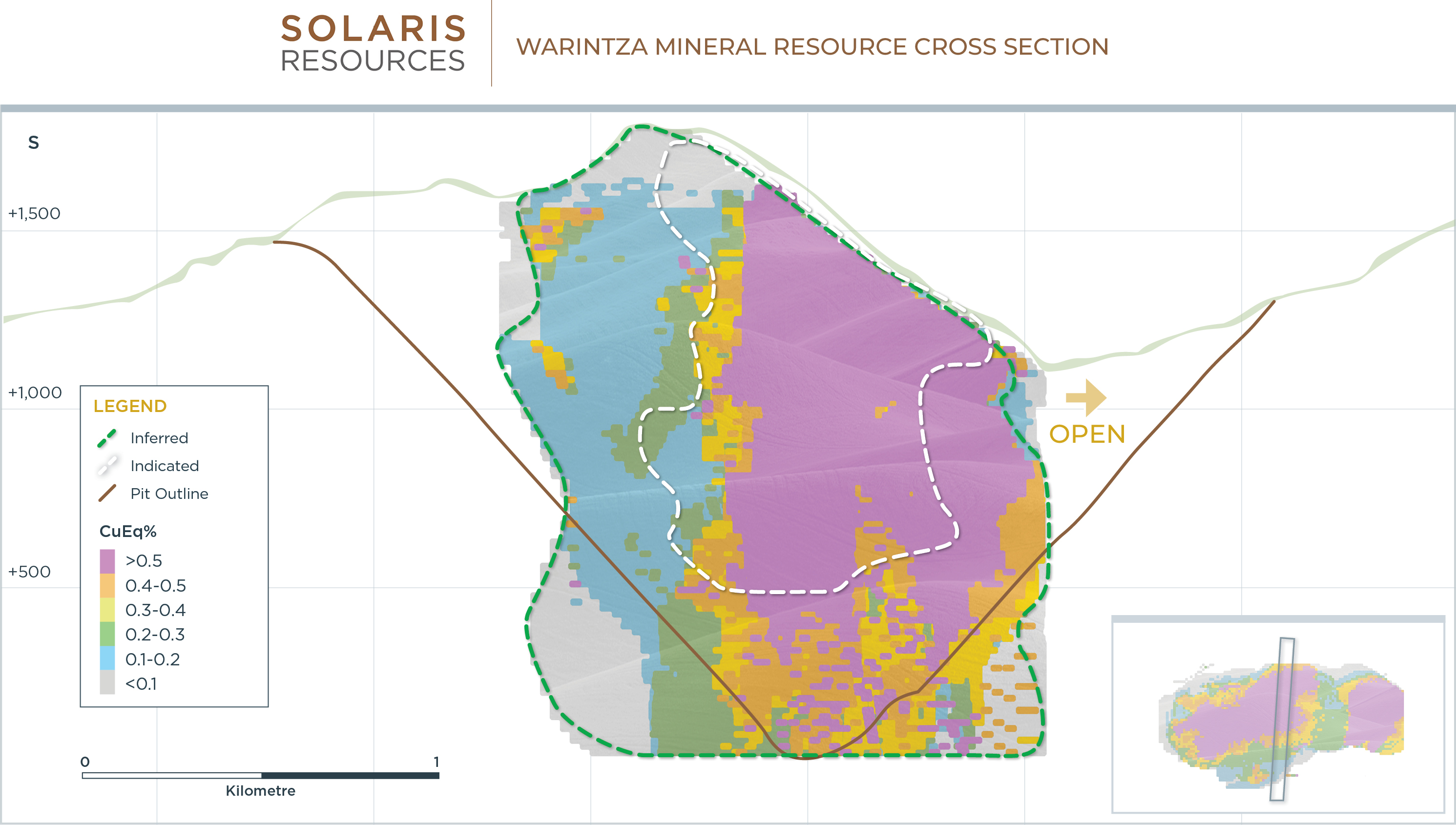 Proposed Solaris Exploration Spin-Out
Porphyry targets at Clemente, Cora, Mateo and Medio Camino
Skarn targets at Playas, Justo, Betty, Yawi, La Celestina
Covered high sulphidation system at Caya (characteristic signature in geochem, clay alteration, vuggy silica)
Responsible Mining – Inclusive Approach
Community Involvement is Key to Warintza Success, Resilience
Innovative approach: commitment to transparency, education and inclusion
Government and community understanding of impacts and benefits of project
Community involvement at each step, enhanced with capacity-building program
The Warintza Success Story
World class discovery by David Lowell in 2000, sat largely dormant since 2001 due to a breakdown in social acceptance from local communities
Extensive dialogue led to understanding root causes of conflict, resolution of underlying issues mid-2019; instituted an informed, innovative CSR program
Government-Sponsored Prior Consultation process with community stakeholders and signed Impacts & Benefits Agreement in 2020 (Amended 2022)
The Warintza Model
Participatory mining model that promotes dialogue between State – Company – Community based on transparency, collaboration, and trust contributing towards the sustainable socio-economic development of the communities and project
The Warintza Model, through the Strategic Alliance and its Board of Directors, contributes to the local development of the Shuar Centres in tandem with the project's advancement, including investment in health and education, support for legal mining, environmental stewardship, promotion of entrepreneurship, gender equality, labor and human rights, security, and prospection and exploration activities
Notes:
Copper equivalent assumes recoveries of 90% Cu, 85% Mo, and 70% Au based on preliminary metallurgical testwork, and metal prices of US$3.50/lb Cu, US$15.00/lb Mo, and US$1,500/oz Au. CuEq formula: CuEq (%) = Cu (%) + 4.0476 × Mo (%) + 0.487 × Au (g/t).
The 'Indicative Starter Pit' is based on the same assumptions as the Resource except utilized metal prices of US$1.00/lb Cu, US$7.50/lb Mo, and US$750/oz Au. No economic analysis has been completed by the Company and there is no guarantee an indicative starter pit will be realized or prove to be economic.
See the Company's press release dated April 18, 2022 for additional information. The Warintza Mineral Resource estimate was reported and press released on April 18, 2022. Please refer to the corresponding technical report entitled "NI 43-101 Technical Report for the Warintza Project, Ecuador" with an effective date of April 1, 2022 and available on SEDAR under the Company's profile at www.sedar.com. The technical report disclosing the mineral resource estimate in accordance with National Instrument 43-101 - Standards of Disclosure for Mineral Projects was prepared by Qualified Person, Mario E. Rossi, FAusIMM,RM-SME, Principal Geostatistician of Geosystems International Inc.