Primary Infrastructure: Natural Cost Advantage
268km2 property, 40km north of Mirador mine (US$1.4B / 20 Mtpa), Adjacent to San Carlos-Panantza copper deposits
Access road to nearby highway connecting Pacific ports, transmission lines, airport, skilled labour, fresh water
Access to grid power (hydroelectric), adjacent Santiago G8 development (US$4B / 3,600MW)
Two-Pronged Strategy: Growth and Discovery
In-Pit Inferred Mineral Resource: 124 Mt @ 0.70% CuEq¹ (0.56% Cu, 0.03% Mo, 0.1 g/t Au) based on minimal historical drilling to 200m on discovery outcrop (2000-2001)
40km drilling for Resource Update at Warintza Central (1.2km x 1.2km x 0.5km volume at 100m spacing)
Significant new discovery at Warintza West (SLSW-01: 798m of 0.31% CuEq¹, incl. 260m of 0.42% CuEq¹ from 32m depth) outside anomaly
Significant new discovery at Warintza East (SLSE-01: First assays return 320m of 0.46% CuEq¹ of 1,213m hole, incl. 54m of 0.70% CuEq¹)
Maiden drilling results from Warintza South, Yawi, Caya, and regional targets in H2/21
Warintza Drilling
Summarized drilling for Warintza can be found here. A 3D model incorporating all Warintza drilling completed to date is available on the website homepage.
Extensive System of Outcropping Porphyries
Plan View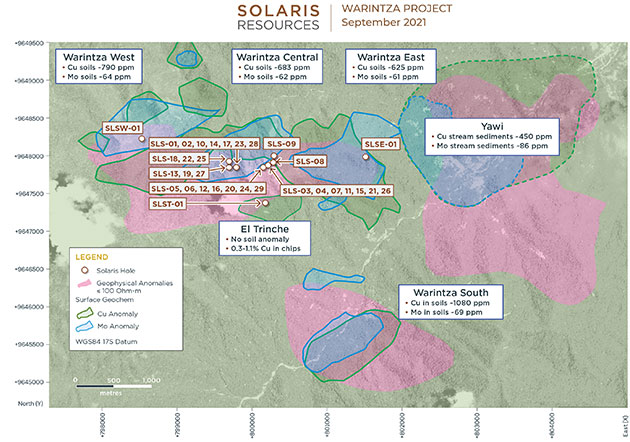 Long Section of 3D Geophysics Looking Northeast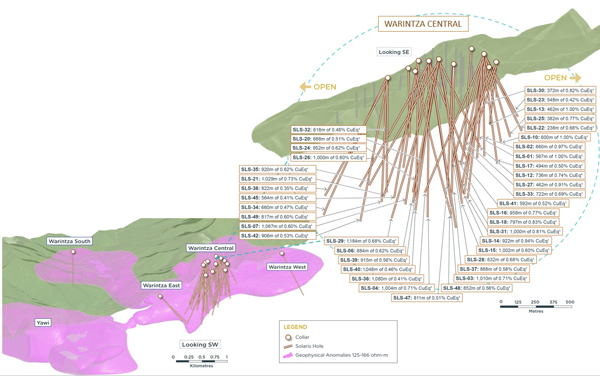 Note: Image looks northeast and depicts high-conductivity geophysical anomaly (defined at 100 ohm-m) generated from 3D inversion of electromagnetic data, encompassing from left to right Warintza West, Central, East and newly-discovered Yawi target (Warintza South lies off image to south).
Long Section of 3D Geophysics Looking Northeast at Warintza South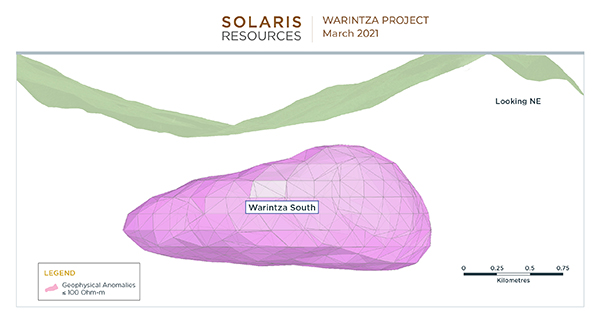 Undrilled Regional Targets
Three large-scale, gold anomalies from surface sampling at Warintza
>0.5 g/t gold-in-soils across broad area, overlapping copper anomaly at Caya
Geophysical survey identified additional blind targets to test
Two additional gold anomalies at Clemente
Responsible Mining – Inclusive Approach
Community Involvement is Key to Warintza Success, Resilience
Innovative approach: commitment to transparency, education and inclusion
Government and community understanding of impacts and benefits of project
Community involvement at each step, enhanced with capacity-building program
The Warintza Success Story
World class discovery by David Lowell in 2000, sat largely dormant since 2001 due to a breakdown in social acceptance from local communities
Extensive dialogue led to understanding root causes of conflict, resolution of underlying issues mid-2019; instituted an informed, innovative CSR program
Government-Sponsored Prior Consultation process with community stakeholders and signed Impacts & Benefits Agreement in 2020
The Warintza Model
Participatory mining model that promotes dialogue between State – Company – Community based on transparency, collaboration, and trust contributing towards the sustainable socio-economic development of the communities and project
The Warintza Model, through the Strategic Alliance and its Board of Directors, contributes to the local development of the Shuar Nations in tandem with the project's advancement, including investment in health and education, support for legal mining, environmental stewardship, promotion of entrepreneurship, gender equality, labor and human rights, security, and prospection and exploration activities
¹Copper-equivalence calculated as: CuEq (%) = Cu (%) + 3.33 × Mo (%) + 0.73 × Au (g/t), utilizing metal prices of Cu - US$3.00/lb, Mo - US$10.00/lb and Au - US$1,500/oz.
Notes:
The technical information contained on this webpage has been reviewed and approved by Donald Taylor, MSc., PG, Director of Solaris who is a "Qualified Person" as defined in National Instrument 43-101 Standards of Disclosure for Mineral Projects. Donald Taylor is a Registered Professional Geologist through the SME (registered member #4029597).
The Warintza Mineral Resource estimate was reported in "Resource Estimate of the Warintza Central Cu-Mo Porphyry Deposit" prepared by Equity Exploration Consultants Ltd. with an effective date of December 13, 2019.
The drill result disclosure on this webpage is based upon Solaris news releases dated Feb 16, 2021, Jul 7, 2021, Jul 20, 2021, and Sept 7, 2021