Multiple-Times Growth and Discovery Potential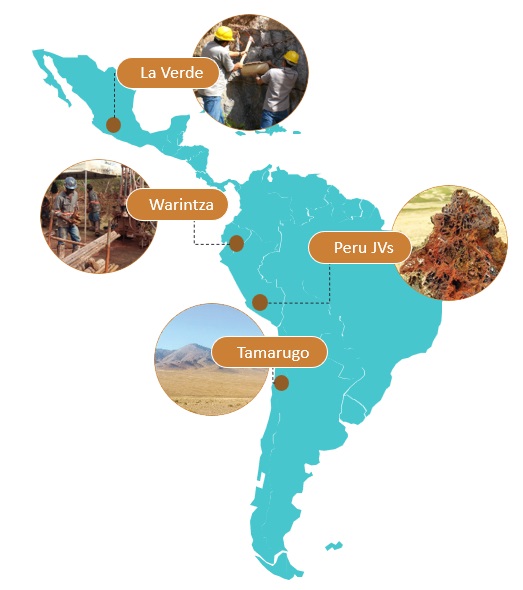 Solaris is responsibly and sustainably advancing a portfolio of copper and gold projects in the Americas:
Focused on Flagship Warintza, Ecuador -
High grade open pit resource within 5km trend of outcropping copper porphyry; untested gold potential
Discovery Potential -
Drilling for discoveries at Tamarugo and Ricardo in Chile and Capricho and Paco Orco in Peru
Exploration Programs Designed by David Lowell, World's Greatest Explorer -
Assembled portfolio and designed programs led by his protégé, Jorge Fierro, VP, Exploration
Managed by the Augusta Group -
Highly-specialized in exploration and development, unrivalled track record of over C$4.5B exits / 10 years
Solaris Resources operates as a reporting issuer, however, is not currently listed on a designated stock exchange.
Augusta Group Track Record
Solaris is managed by the Augusta Group, which boasts an unrivalled track record of value creation totaling over C$4.5B in exit transactions over the last decade, and has strategic partnerships with the leading entrepreneurs in the mining sector.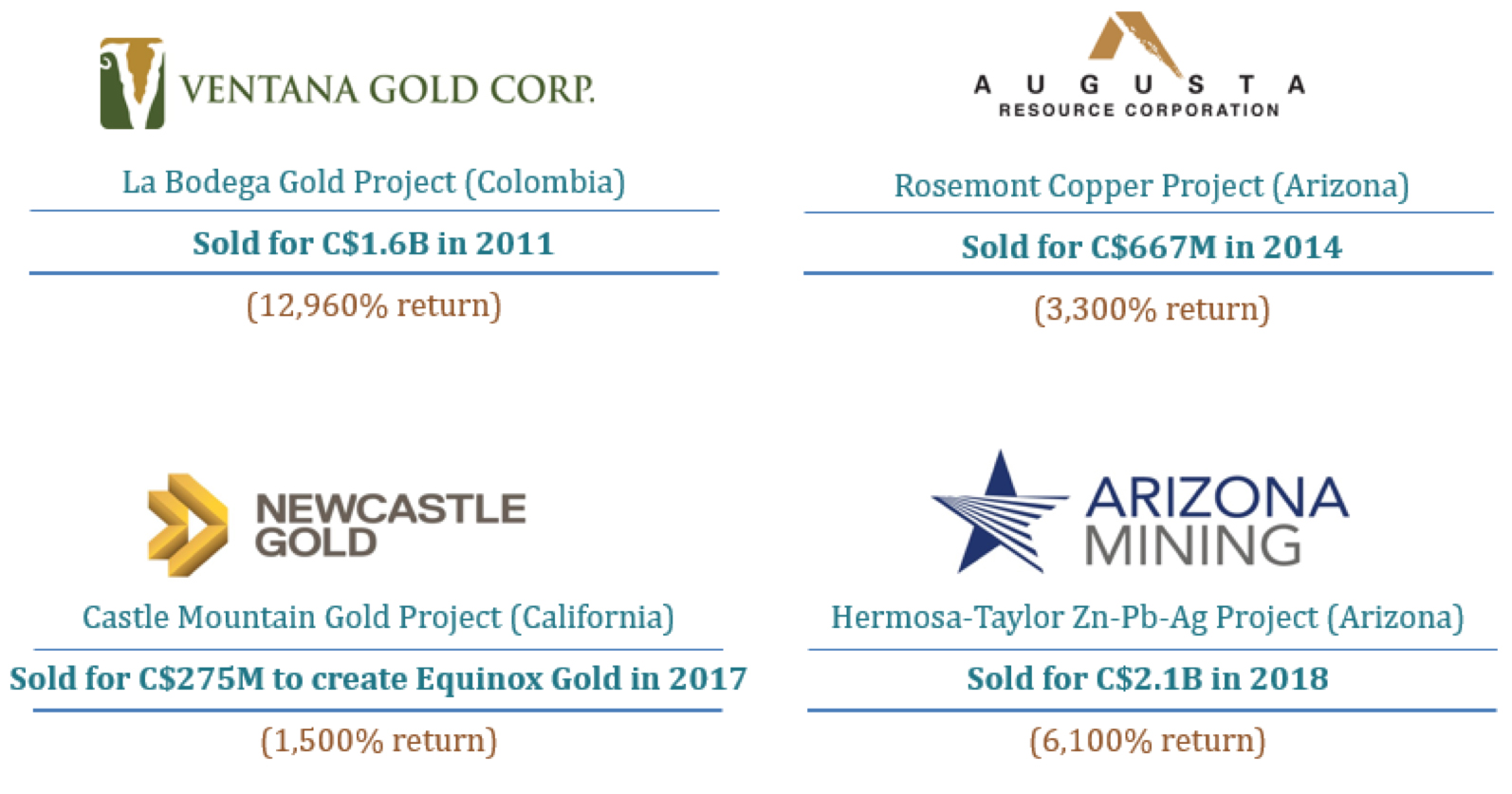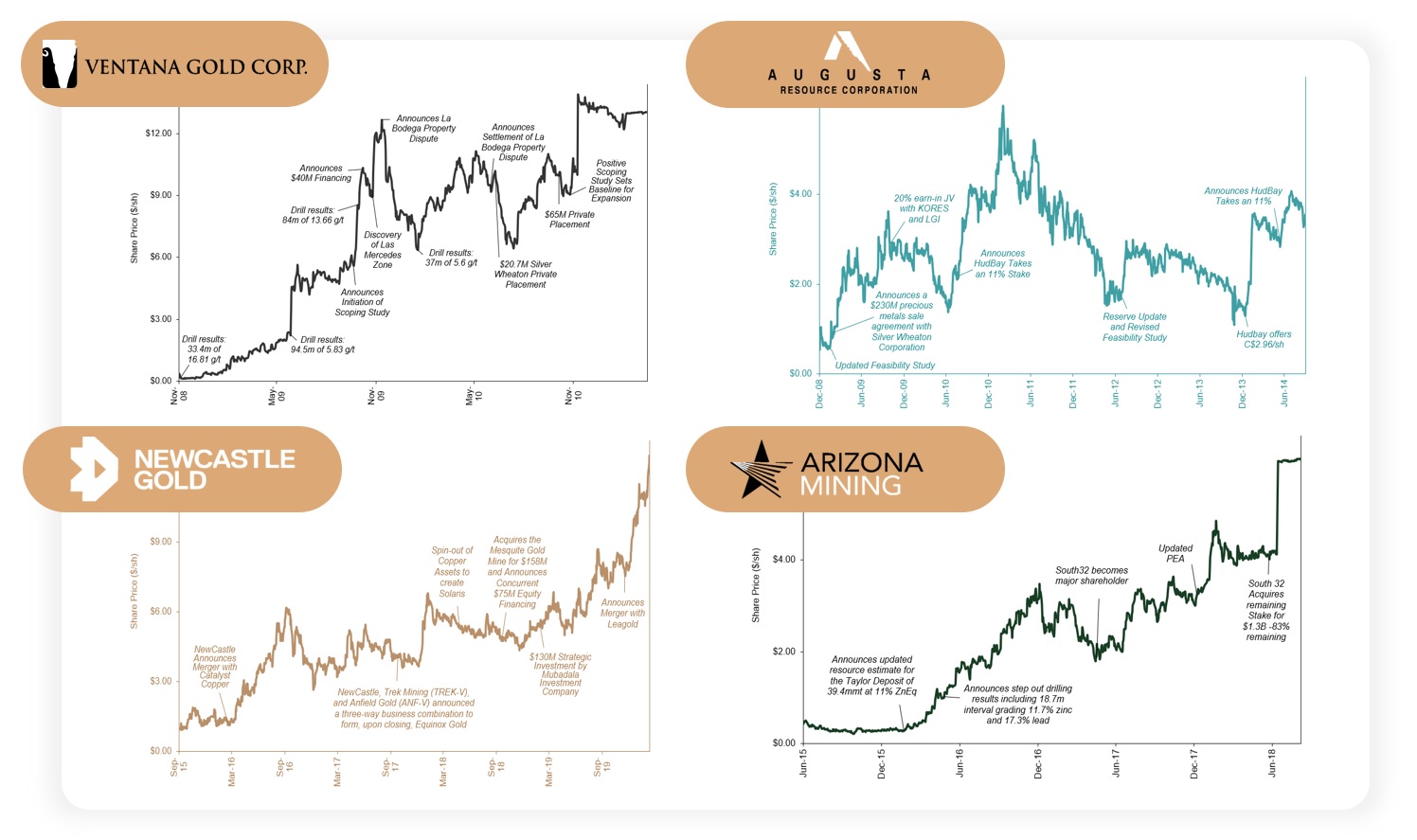 History
The Company was formed as Solaris Copper Inc. in August 2018 via spin-out from Equinox Gold Corp. (TSX: EQX, NYSE American: EQX)
60% of its shares at formation were distributed to Equinox Gold shareholders, who received 1/10th of a Solaris share for every EQX share held, with the remaining 40% of its shares held by Equinox Gold as a long-term strategic partner1
It was renamed Solaris Resources Inc. to reflect the potential of the large-scale gold anomalies identified through sampling in 2019 and joined the Augusta Group in January 2020
Solaris is recognized as a "public corporation" by the Canada Revenue Agency and is a "reporting issuer" under Canadian securities legislation and, as such, will comply with its continuous disclosure obligations including press releases and financial reporting
The Company is considering a potential stock exchange listing, but at the moment there is no firm date for listing the company
1
Equinox warrants, options and restricted share units were also adjusted pursuant to the arrangement. If you still hold physical share certificates or DRS advice for your Equinox Gold shares, please visit the "Equinox Gold" page under the Investors tab.